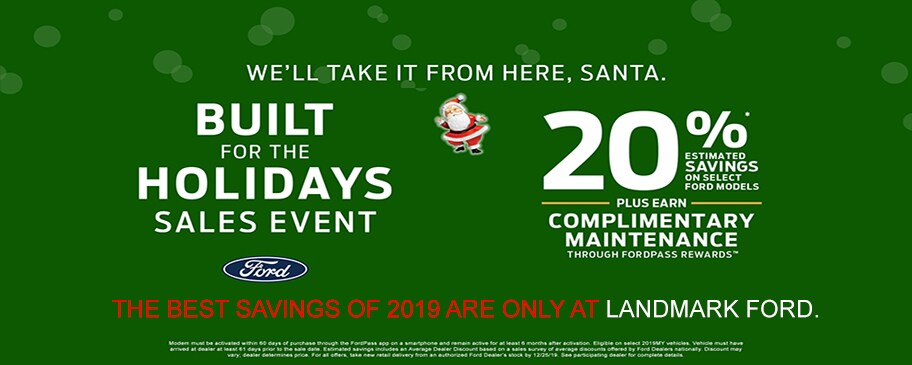 The Biggest Sale of the Year is Here
---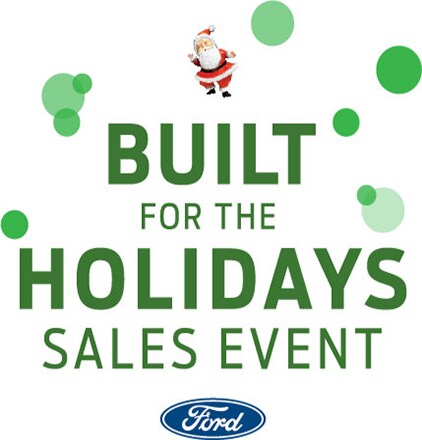 YOU'VE MADE THE NICE LIST. IT'S TIME TO REWARD YOURSELF.
It's amazing that 2019 is almost over, and there's no better way to celebrate the new year than to treat yourself to that new F-150, Escape, Fusion, or Expedition you've had your eyes on all year. We are cleaning shop of all 2019 models, so now is the best time to not only save an estimated 20% on select 2019 vehicles, but stock up on savings with complimentary maintenance through FordPass Rewards.
2019 Ford Ranger
---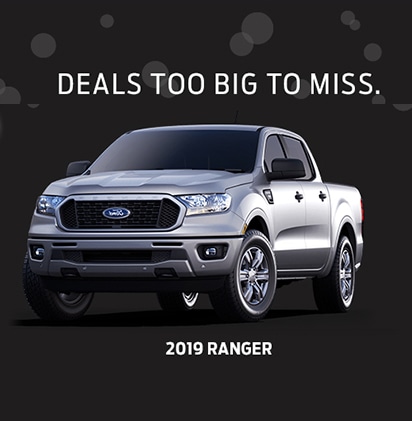 THE ONLY ADVENTURE GEAR BUILT FORD TOUGH®.
2019 marked the anticipated return of the all-new Ford Ranger, and it did NOT dissapoint. With a potent 2.3L EcoBoost® engine, the 2019 Ranger beats other gas-powered pickups in its class with a torque rating of 310 lb.-ft. And with all that muscle, the Ranger is also the most fuel-efficient gas-powered midsize pickup in America. So you'd like to see what the 2019 Ford Ranger is all about? Stop by now for your chance to buy one for less!
2019 Ford Escape
---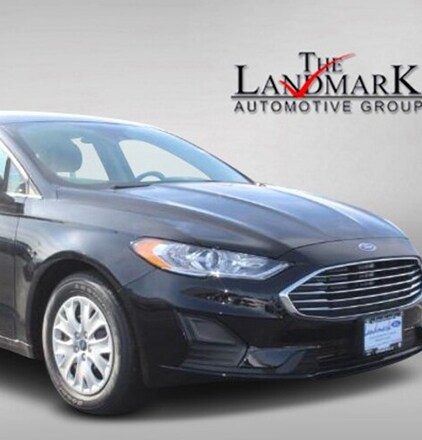 DRIVE OFF IN A 2019 FORD FUSION FOR JUST $18,265.
With gas, hybrid, and plug-in hybrid powertrain options, the 2019 Fusion is where technology, style and responsible driving meet. Hybrid and plug-in hybrid options can help improve your vehicle's efficiency and total driving range. In all-electric mode, the plug-in hybrid can even reduce CO2 emissions, helping leave a smaller footprint. Oh and by the way. This is our biggest Fusion discount EVER!
2019 Ford Edge
---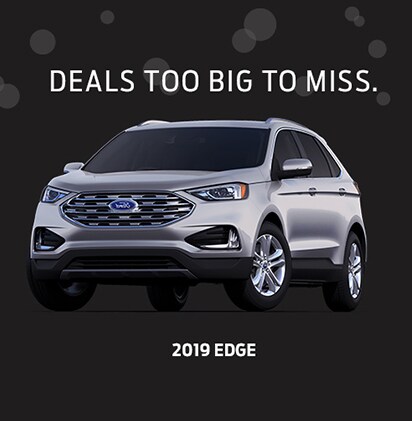 2019'S MOST SPORTY SUV AT A NEW LOW PRICE.
The Edge is a thrill-ride with the brains to match. Boasting 335hp and 380 lb.-ft. of torque,* a 2.7L V6 turbocharged EcoBoost® engine, & wireless charging technologies, the power of the Edge is only matched by it's amenities. Come in today to test drive a 2019 Edge. There's a good chance you'll drive off with a 2019 steal.
2019 Ford F-150
---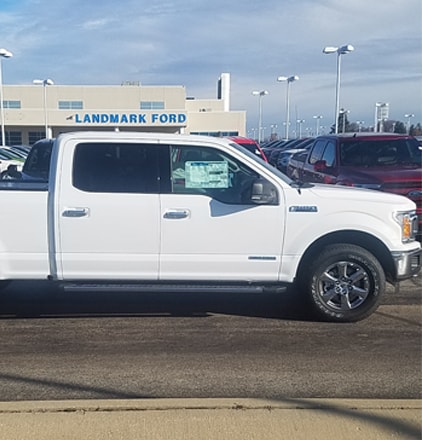 AMERICA'S FAVORITE TRUCK UP TO $16,400 OFF.
The Ford F-150 has the only high-strength, military-grade, aluminum-alloy body in its class. A heat-treating process is used to harden the aluminum alloy. Working with aluminum alloy allows an increase in gauge (or thickness) where needed to achieve strength without increasing weight. The lighter aluminum-alloy body and bed produce a higher power-to-weight ratio - plus maximum payload and tow ratings that are best in class. Yet another benefit - resistance to dents.